The dramatic scenery of Bryce Canyon National Park is an enticing landscape for hikers. A bowl of glowing orange and gold hoodoos beckons as you gaze out over the main amphitheater from Sunrise or Sunset Points and see the twisting trails that snake through the canyon. Hard-packed paths on the tops of ridges wind their way through a fairyland forest of towering hoodoos. Mixed into the scene are a scattering of huge pines, dwarfed by the size of the stone formations that surround them.
Hikes in Bryce Canyon range from easy paved paths to more lengthy and heart-pounding half-day trails. Below is a list of easy, moderate, and strenuous hikes, all of which offer outstanding views and are well worth the effort.
1 Queen's Garden/Navajo Loop Combination Trail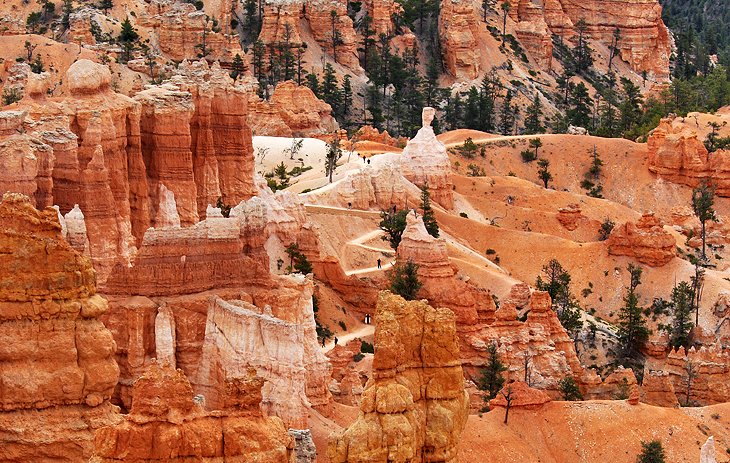 The Queen's Garden/Navajo Loop is the most popular hike in Bryce Canyon National Park, running through the most spectacular section of the park. This hike takes in outstanding views from the rim and then descends along ridges into the canyon and meanders among the towering hoodoos. The total length of the hike is 2.9 miles, and the elevation gain is about 600 feet. It's long enough and diverse enough to give you a good feel for the park but easy enough that anyone in reasonable shape can do it. Although this a technically easy hike on a solid and obstacle-free path, the park ranks this hike as moderate, but this is likely due to the length of the trail and the elevation.
The best way to do this hike is in a clockwise direction beginning at either Sunrise or Sunset Point. From Sunrise Point, the trail winds down the canyon on the Queen's Garden trail, with fabulous perspectives at every turn. At the bottom, you can see a short detour to the Queen's Garden, where you'll find a hoodoo resembling Queen Victoria. At this point, the trail joins with Navajo Loop and eventually begins a gradual ascent up the canyon. On the last section of Navajo Loop, two trails lead up to Sunset Point; the most popular is Wall Street; the second option is Two Bridges. Both of these eventually lead to a series of switchbacks, where you gain considerable elevation over a short distance. The trail then pops up at Sunset Point, and if you've parked at Sunrise Point, you can walk along the paved Rim Trail back to where you started.